Lisa was perfectly happy in London. Life as a real estate agent was challenging and developing and living in the big city was exciting and social. But a longing for the green beech woods, the plains of Skåne and a gentler pace was growing ever stronger. So she took husband, baby and everything but the kitchen sink and moved back to where she was born and where she grew up. She moved home to Klinta.

Her entire savings, years' worth of amassed creative ideas and bucketloads of passion were poured into opening a garden, design and gift shop at her parents' garden centre. There, between the café and the flower meadow and with the help of a good friend back in England, Lisa created Klinta's very own fragranced candle.
The ingredients were vital. Sustainable and renewable natural oils that were so mild that they could even be used as a body and massage oil. Re-use, sustainability, timeless design, environmental impact – all factors to prioritise. Lisa insisted too that no unnecessary additions be made to the wax and that the candles should be poured by hand, so that each and every one breathed quality and artisanal spirit.
She found inspiration in fragrances from the garden and vegetable plot, the forest, the lake, her home and the flower meadows - recreating these in the candles. In this way each visitor to the gardens at Klinta could take a small piece of it away with them and continue enjoying it all day, every day.
The candles were a hit! And success was contagious! It wasn't long before Klinta could be found in shops all around Skåne. Today you can find that 'Klinta feeling' in design stores, gift shops, florists and salons across Sweden, Scandinavia and the world!
The range is growing fast and now offers a wide selection of room fragrance and skincare products. Even though a lot has happened since that first candle was born, it's still all about those same values, expectations and the demand for quality. Klinta strives constantly to maintain those same uncompromising standards and that handpicked feeling.
'Everyone should be able to enjoy a small piece of Klinta', says Lisa. 'Our carefully chosen, natural, mild fragrances are blended with beautifully pure and nourishing oils. Past feelings are revived and the seeds for future memories are sown. Every time we seal the carton and send off a batch of our candles, diffusers, soaps or oils, it's a slice of that beloved aromatic landscape that we're transporting. A work of craftsmanship that makes people feel good. Quite simply, we deliver a slice of my Klinta.'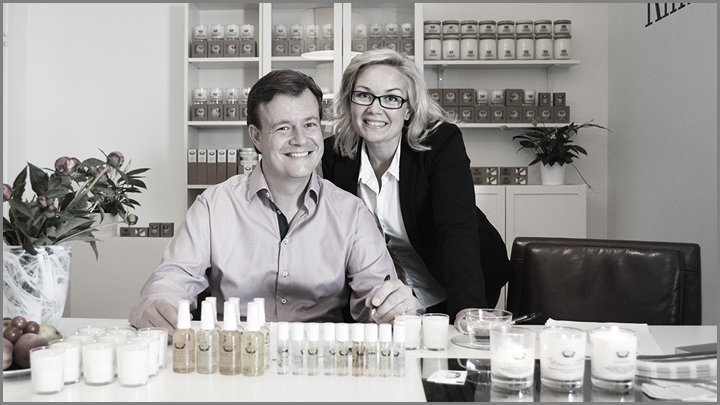 Lisa Stevens with her husband and business partner SImon Stevens.

See the movie about how Klinta was founded here: